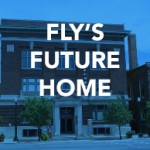 Here at FLY, we have been working hard behind the scenes to make several things happen. First, we are super excited to share with you the news that on April 1, we will be moving, just two doors down, to Riverside Arts Center! This move represents something awesome happening in Ypsilanti: the coming together of youth and culture organizations into one spot. We'll be part of a vital and vibrant space— the creative epicenter of events and organizations from  our friends at First Fridays, EMU Bright Futures, Ypsi Youth Theater, dance studios, artist workspace and lots more. We can't wait to see what new collaborations spring up in this fertile environment! The new space will also bring us 1) a larger work space and access to a much needed utility sink, 2) a way to lower our costs (goodbye heating bill!) and focus more on growing programs and staffing, and 3) the opportunity for us to stay in the downtown neighborhood we love.
You might notice the new web site! We have been building the site with the goal of making it easier than ever to support FLY by coming to workshops, donating or volunteering. We have invested in a new system for registration and hope that you enjoy it. In fact, we want to note that winter break camps and spring break camps are open for registration (with summer camps coming very soon).
FLY is planning something awesome. It is a secret for another week, but we can't wait to tell you. We'll give you a clue: it is called FLYTRAP. Stay tuned.